When the need for tooth removal arrives, it is important to consider what will be done with the empty space after that tooth is removed. Wisdom teeth are in the back of the mouth, so that site will heal on its own with no complications. If it is necessary to remove another tooth, plans must be made. If a tooth is removed and nothing is done with the extraction site, the jaw bone will degenerate and change shape during healing and can cause your teeth to shift. This can create problems in your bite and affect your ability to speak and chew. It is estimated that as much as 60% bone loss can occur a the tooth extraction area in the first 24 months.

If you want to fill the space with a dental implant, a sturdy jaw bone is necessary to install the implant. If you opt for a dental bridge, the bridge must be molded and placed before the teeth shift.

Dr. Pruitt is always open to a conversation on what you would like to do with your extraction site before removing a tooth. Dr. Pruitt will be able to make a recommendation and layout a treatment plan, specific to you.
In the following Panoramic radiograph you can see the effect and importance of extraction site socket preservation. Notice how the area on the patient 's lower right is dark and uneven where there is loss of tooth structure and absence of bone following the extraction of two teeth. Now, notice on the patient's lower left where two teeth were extracted how the extraction sites are full and level with bone grafting material that will generate formation of natural bone in the patient's lower jaw. As a result, the area on the patient's lower left, once properly healed, can be restored with the placement of dental implants and crowns.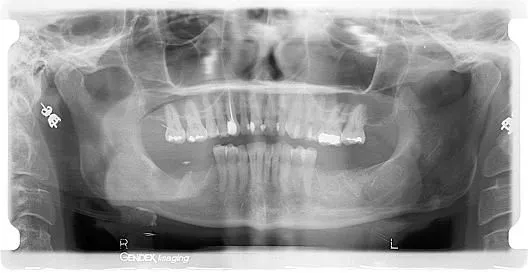 The photos below, in chronological order, demonstrate the process of extraction site socket preservation. The first radiograph reveals two deeply decayed teeth that can not be restored and must be extracted. The following radiograph was taken immediately after the teeth were removed, if the extraction sites were left this way without bone grafting the result would be an uneven ridge with approximately 60% loss of bone height in this area of the lower jaw. The final radiograph was taken after the bone grafting material was placed and the extraction sockets have now been preserved for future restoration.